The Collection
Rigid Pro Ultra
Stunning wood appearance luxury vinyl planks, Rigid Pro Ultra has been crafted with methodical attention to detail, creating a level of realism that is unparalleled by traditional vinyl flooring. With a waterproof structure and improved options for scratch and ding resistance, these true-to-life looks are built to withstand the test of time.
Hunter Brown
Crystal Lux Scratch Resistant Technology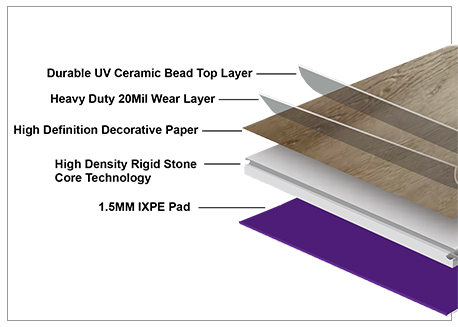 Selected for its waterproof and scratch resistant technology, Texas Traditions, Rigid Pro Ultra Collection has been updated with top notch upgrades. A new UV Enhanced wear layer 10X more scratch resistant than its predecessor, keeps your floors from wearing out quickly over time and feels just like regular hardwood. These luxury vinyl selections come complete with a rigid stone core that is 100% waterproof, great for all types moisture bearing areas. When you pick up a sample, you'll notice the purple pre-attached 1.5mm IXPE pad. This pad adds a bit of sound proofing and warmth to your floor and also means no additional underlayment installation necessary. All this topped off with an antimicrobial top coating makes Rigid Pro Ultra a safe and healthy choice for yourself, pets and the environment.